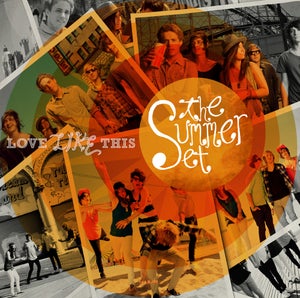 £

3.99
****CD SOLD OUT BUY DIGITAL COPY AT BANDCAMP****
INFO:
The Summer Set have arrived in the UK & Europe at long last! Pick up this deluxe version of their debut record 'Love Like This'.
TRACKLIST:
1. The Boys You Do
2. Punch Drunk Love
3. Chelsea
4. Young
5. Take It Slow
6. Can You Find Me?
7. Love Like This
8. Girls Freak Me Out
9. Passenger Seat
10. This Is How We Live
11. Where Are You Now?
12. Chelsea (Acoustic)
13. You Belong With Me
14. Our Song
15. Forever and Always
16. I'm Only Me When I'm With You
17. Love Story (Feat. Brandon Wronski)
18. Fifteen
PRESS:
"Simply put, The Summer Set is one of the most naturally talented pop bands to come out of the scene in the last few years - AbsolutePunk.net
Resistance to The Summer Set is futile: "Love Like This" is a non-stop barrage of high energy, danceable pop-rock aimed at the younger, predominantly female, American market and now on its way to the UK - AltSounds.com
STATUS:
In stock - ships within 24 hours.
CATALOGUE DETAILS:
LAB038 – Released 11 April 2011